Ph. me

Because I love me some #fromwhereistands haha. Make sure you follow me on Instagram



ph. Me/iPhone

What I've been up to lately: a lot! I ran a very heavy and windy 10k run at Texel, got nominated by Zalando as one of the best Dutch bloggers (didn't win though, congrats again Lizzy!), went to the official opening of the new (and huuuge!) Zara in my hometown, Amsterdam. Besides that, I hosted a very cool give-away (already joining?), dug up my very old Chanel sneakers, wore my Docs almost the entire week and got inspired by those gorgeous rugs, might need one myself. How about you? How did you spend your week?



Ph. various Tumblrs

Some random inspiration.. love the light blue jumper in the last pick, would love to get my hands on that leather jacket (note to self: you already found the perfect one, you already found the perfect one, you already fou.. ;)) and would definitely get a white coat I it weren't for the Dutch winters combined with my clumsiness.. Make sure you follow my Tumblr for more inspiration or leave me the link to yours (yup, spamming permitted for once)!
Yup, I know it's 2013 for a few days already, but this time I really had to make up my mind about my resolutions. Merely, because I believe every single day can – or has to – be a moment where you can change, be a better version of yourself, start a better life.. But on the other hand I do like to think of the start of a new year as the start of a better me – fashionwise or on a personal level, even though I tend to forget most of my resolutions within the first months of a new year..  So using my blog as a reminder, or just as a fun post to get back to as soon as 2013 comes to an end and 2014 is going to kick in. Here we go, personal or fashion-related resolutions all higgledy-piggledy:
1. Find a job. Since I got my Master's degree back in August, I'm on the hunt for a job. Even though I'm well-educated, extremely ambitious ánd dying to get started, I haven't found anything just yet. Don't get me wrong, I absolutely love the the fact that I'm fulltime blogging (and jobhunting..) right now, but I cannot wait to start working as a behavioral therapist as well. I truly believe I will find something this year, fingers crossed it's going to be soon!
2. In a certain way, get back to the 5-piece-French-wardrobe principle (google that, if you're not familiar with it ;)) the way I did it last year. Which is: certainly not sticking to the strict amount of 5 pieces, but use the principle as a certain directive guideline when it comes to adding things to my wardrobe. I love the idea of investing in good quality basics and adding some more on-trend items, but not too many. We don't want to look like a slave of fashion, do we? ;). With this whole idea I like to start detoxing on my wardrobe as well. Getting rid of the things I don't wear, removing stuff I"m won't be wearing in the near future.. just a fresh start!
3. Skirts! I really like skirts, but they hardly ever come to pass on my blog. Maybe it's the fact that I'm a total numbskull when it comes to tights, but on the other hand: I hardly ever wear them in summer either. So no excuses, skirts it is!
4. Start working out more. Some of you might know this already, but I'm a true sports-lover. I played this Dutch sport called 'Korfball' for more than 20 years (for many years I trained like 5/6 times a week, played matches etc etc.). After that I started kickboxing and running, truly loved it, but then I tore my ankle ligaments last summer and I haven't been able to start working out ever since.. And I have to admit: it feels horrible. This week I started – babysteps, babysteps – running again and it felt so amazing to finally be active again! I can get used to this, I'm sure! So my goal: regain my sporty vibes and maybe even run a half marathon this year.. We'll see.
5. Invest in a new everyday bag. This one has to meet some criteria.. it has to be big enough to carry the truckload of stuff I like to drag along, but has to be suitable for more chiq appearance as well. I want it to have a strap that is long enough to carry it on my shoulder, for the heavier days you know.. It has to match every outfit, every mood and every colour, which makes it rather easy for me to choose the colour: it. has. to. be. black. You do the math: it's Celine's Luggage bag.
6. Stop buying shoes I won't be wearing a lot. It might not come as a surprise to you that I'm a true shoe-lover, but I really think I have to out some limits to my shoeshoppingbehaviour (as a behavioraltherapist I like to analyze my own behavior as well ;)). Even though I really, REALLY like a good pair of high heels, I think it's better to invest in more comfy shoes rather that splurging on too high, too uncomfy, too expensive high heels, put them in my – wonderful – closet and grab some sneakers for daily wear instead. Okay, I might be exaggerating a little bit on this one, I mean: I dó wear my high heels, and I dó love them, but facing their cost-per-wear almost makes me nauseous. Again: I won't stop wearing/buying high heels, but I just want to be a little bit more aware of the fact that it's better to have a small amount of gorgeous high heels which I'll be able to enjoy for a couple of years, rather than 'investing' in bad bargains which I don't need and don't wear.  I'd rather invest in a basic pair of classic heels, and add some lower versions or flats for daily wear.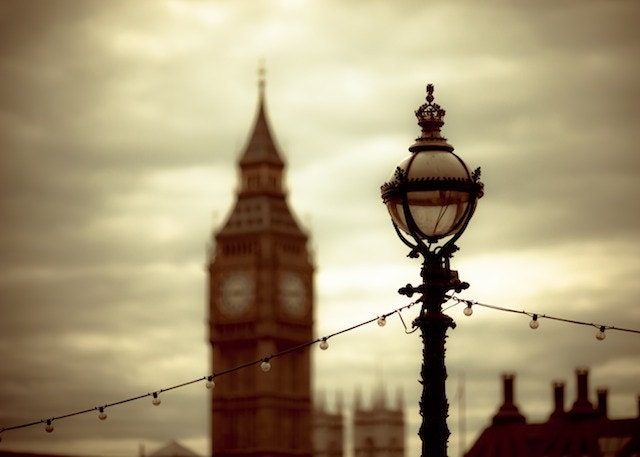 7. Go to London! A city that appeals to me in so many ways, a city that is só close to my own, but a city I've never been before. My love and I are planning on going to London for quite some time now, but everytime something interferes with our trip (like moving to Amsterdam, not bad at all, but still..).
Not bad, huh? I limited the amount of resolutions to six, because in my opinion it's better to work on a few goals, jump in with both (high-heeled, well-trained.. ;)) feet, rather than having a truckload of things to work on, with the endresult: half of the things done hesitatingly and the other half: completely forgotten. So tell me, do you have some newyear's resolutions? Something you want to work on? What do you think about mine? Tell me, I'm curious :)
Ph. shown above:  Lennart Groot, Jak and Jil, Camille Over The Rainbow and Afterdrk. 
Next Page »